Christmas is a time for shopping, decorations, hot cocoa, and snow covered landscapes… no wait, no snow here, not much need for a sweater either. Here along the Alabama Gulf Coast the only white you are certain to see is the warm sandy beaches.
But don't let that disappoint you. There's plenty of holiday cheer in the forms of parades, plays, Christmas tree lighting events, Santa appearances, music, shopping galore, every type of food you can imagine and much, much more. In fact, we couldn't list them all but we did come up with a few.
Here's our take on things to do along the Alabama Gulf Coast during the holidays. We call it the 31 days of Christmas.
Day #1 - Visit the Tanger Outlets. Who needs Black Friday with the prices here. Special deals are always abounding and coupon books can be purchased at the Tanger Outlet office.
Day #2 - Visit the Gulf Shores/Orange Beach Welcome Centers. Find out exactly what's happening, where the specials are, pick up some literature to keep you on track, and coupons to balance your spending. See here: Gulf Shores & Orange Beach Tourism.
Day #3 - Visit the Wharf at Orange Beach. The annual lighting of the Christmas tree begins the season of shopping and entertainment. Check them out here: http://www.alwharf.com/calendar.php
Day #4 - Don't miss the Gulf Shores Christmas parade, (usually the first Friday of December). This year 4,000 ping pong balls will be dropped with prizes totaling nearly $2000. See here for more info: Gulf Shores Christmas Parade.
Day #5 - Visit the Swift-Coles Historic Home for a step back into time. Christmas Open House is filled with goodies and carolers. For more info: Swift-Coles Historic Home.
Day #6 - Catch one of the musicals. A Christmas Carol will be presented on several days. Find out more by visiting: http://www.sbct.biz/.
Day #7 - Ice Skating on the Beach? Yes, The Wharf provides an ice skating rink November 23 - January 10, weekdays: 3pm - 10 pm, weekends: 10am - 10 pm. $10 per person, Ferris Wheel and Skating combo $13 per person. Ice Skating at the Wharf
Day #8 - Live Animal Nativity Trail & Exhibit, the newest addition to Winter at The Wharf. Enjoy the Live Nativity Scene by foot, by car or by camel. November 27 - December 27, Monday - Friday: 3pm - 10pm, Weekends: 10am - 10pm. Entry: $5, Petting Zoo: Free, Horse & Pony Ride: $5, Camel Nativity Ride: $10. Live Animal Nativity Trail & Exhibit
Day #9 - Shop Local annual event. See what Foley has to offer. Special boutiques, thrifting & antiquing opportunities. Visit Foley, Shopping for Antiques, Unique Shopping Itinerary, Bargain Hunter's Thrift Trail.
Day #10 - The 30th Annual Lighted Boat Parade, (usually the second Saturday of December), will take place on Saturday December 12th starting at 5:30 pm from Lulu's and finishing at Cobalt's Restaurant in Orange Beach.
Day #11 - Don't miss the 4th Annual Merry Market Unique Gifts and Arts & Crafts Expo, December 11 beginning at 9 am - December 12 till 6 pm. Held at the Orange Beach Events Center at the Wharf. Admission is free.
Day #12 - Visit the Coastal Alabama Farmers & Fishermen's Market, at Miflin Road in Foley and enjoy live Christmas music. The county's largest fresh market. Saturdays 9 am - 2 pm.
Day #13 - Annual Santa Drop at the Flora-Bama. See Santa skydive onto the sandy beaches, take a picture with him, Christmas Carols, free sweets, hot chocolate & juice for the kids. December 12, 10 am - 12.
Day #14 - Christmas with God's Creatures at the Alabama Gulf Coast Zoo. December 12th 12 pm- 4 pm. Petting zoo, Christmas crafts, live nativity scene with storytelling, homemade treats, refreshments and Christmas caroling. Admission to zoo for this event is free. Donations for area service centers are welcomed. For more information visit: Christmas with God's Creatures.
Day #15 - Magic Christmas in Lights at Bellingrath Gardens. Open November 27 - January 2, open daily from 5 pm - 9 pm with tours of the Bellingrath Home every hour and a half until 8:30 pm. Voted USA Today's 2014 list of "10 Best Public Light Displays in America." 2015's theme, 20 Years of Magic. Tickets can be purchased online, $24 per adult for garden & home tour, $15 per adult for garden only. Children 5-12 $13 for both, $7 for garden only. Children 4 & under free.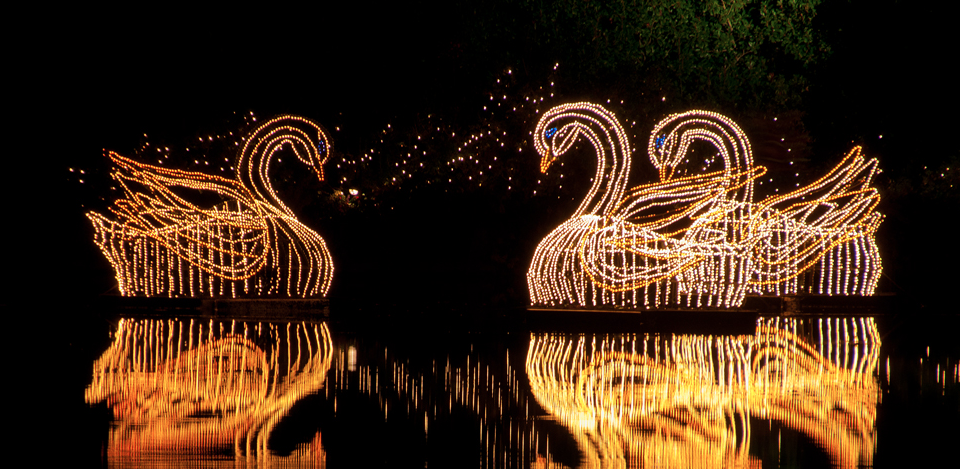 Image by Bellingrath Gardens
Day #16 - Riverside Ice in the cooper Riverside Park downtown Mobile. November 14 - January 12. Monday - Thursdays 11 am - 10 pm, Friday - Saturday 11 am - 11 pm, Sunday 12 pm - 8 pm. Adults $10, kids 12 & under $8.00.
Day #17 - Pensacola Saenger Theatre. Presentations begin Dec 4th with the Pensacola Symphony Orchestra & the Choral Society of Pensacola. Ending on December 21 with the Nebraska Theatre Caravan. For more information visit: www.pensacolasaenger.com
Day #18 - Pensacola Winterfest. Downtown Pensacola will be transformed into Christmas Town from November 27 - December 23. Hours vary. Tours feature 16 scenes from a Living Nativity to the Polar Express. www.pensacolawinterfest.org.
Day #19 - Annual Cox Pensacola Christmas Parade, December 12 at 5 pm. Drawing some 50,000 people with entries from as far away as New Orleans and including the famous Blue Angels flight team.
Day #20 - Check out the Chocolate Exhibition and Holiday in the Tropics, A South American Christmas at the Gulf Coast Exploreum Science Center in Mobile. For more information visit: Hours & Admission.
Day #21 - Candlelight Christmas at the Historic Oakleigh House in Mobile. December 10, 4 pm - 9 pm. A Mobile tradition for over 60 years. $15 per person, children 12 and under free.
Day #22 - Take a stroll through Fairhope's downtown shopping venues and stop by Christmas 'Round the Corner, see the other gifts & collectable shops, also see Downtown Fairhope's extended hours and businesses list.
Day #23 - Take a Civil War tour of Fort Morgan and find some unique gifts at their gift shop. Open daily 8 am - 5 pm, Museum 9 am - 4:30 pm daily. Admission: Adults $7, Seniors $5, Children 6-12 $4, Under age 6 free.
Day #24 - Get in some last minute shopping at Pelican Place at Craft Farms, HRH Store.
Day #25 - MERRY CHRISTMAS!!! After a day of food and fun you are in the perfect place to relax and get away from the hectic pace.
Day #26 - Take a ride and get one last look at all the lights with the kiddos. Where to See Lights.
Day #27 - Try one of the many restaurants in the area. Why not try one for breakfast, lunch, and dinner, don't forget that sweet tooth. It's the holidays. Eat Your Way Around the Beach.
Day #28 - Take a leisurely stroll down the Gulf State Park Pier around dusk for some awesome sun setting photos.
Day #29 - Time to work off those extra calories. Rent or grab your bike and head out to the Hugh S. Branyon Backcountry Trails for a day of exercise and sightseeing.
Day #30 - Need some quiet time to relax and reflect? The Bon Secour National Wildlife Refuge hiking trails provide the perfect setting to do so.
Day #31 - Reelin in the NEW YEAR at The Wharf. 5 pm - 12 am. Marlin Drop, fireworks, Spectra Light show, Live Music. For More information: ALWHARF.com
Whew, I'm tired just thinking about it all. If you've missed some of the events, don't worry, there's plenty more to do. Make plans to come and stay the whole holiday season next year. We can help you with that. Why stop with a month? Why not make the move to one of the best places to live and retire? Give us a call, text, or email today and let us help you find that perfect spot.
Do you have any suggestions to add to our 31 Days of Christmas? We would love to hear from you and would be happy to add it to our list for next year.