Kitchen countertops are a key feature in a home because most of the time is spent in the kitchen! When entertaining guests, cooking family meals, having craft time or coffee chats, this is the gathering place. So, when you are shopping for countertops, don't only consider the design and feel—but also think of the use and how much maintenance it will require.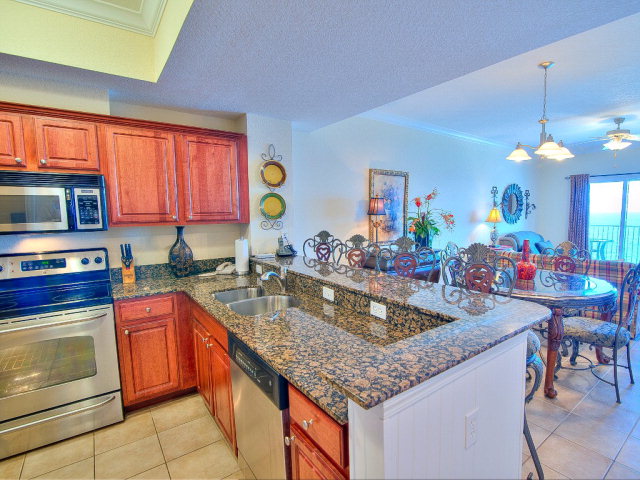 The usual countertop materials from natural stone are granite, marble, quartz. There are other materials that are artificial blends like butcher's block and laminate that are not resistant to heat and scratching. So, most people prefer natural stone surfaces not only for beauty but also for the practicality.
However, large slabs of natural stones get very pricey especially if you have a lot of surface space. You should consider getting an estimate before committing to a design to make sure it fits in your budget. Also, sometimes the prettiest design is not that easily maintained.
Many people love the look and feel of marble. Yet marble is not easy to clean and maintain. For instance, a guest could spill red wine or a child knock juice on the counter and that stain will remain. So, if you have young children or you entertain a lot, marble might not be the best choice for your kitchen counter.
Granite is a popular choice because it's a natural stone that is easier to clean and maintain its appearance. Plus, there are a lot of varieties of granite to choose from. For those who are looking for a more minimalist, clean design, granite can get too busy.
Quartz is a great option because it can have a clean, minimalist aesthetic while being easily cleaned and maintained. It also has multiple varieties to choose from so you can have more options when designing your kitchen.
All in all, when you are selecting a countertop consider three things in the following order: your budget, your lifestyle, and your design aesthetic. You don't want to be blindsided by the cost, but you also don't want to invest in a countertop that can be easily compromised by your lifestyle. So, when you've settled on your budget and lifestyle, then have fun with your design!
TAKE A LOOK AT OUR FEATURED LISTINGS!
Keep us in mind if you are looking to purchase or sell a piece of property. Give us a call, text or email today. We look forward to assisting you in all of your real estate needs along the Alabama Gulf Coast.
"Small Town - Big Beach" - it's who we are