Memorial Day weekend marks the official beginning of summer vacation here on the Alabama Gulf Coast. June is one of the busiest months for beach activities and rentals. Most families will take advantage of the next two months for their vacation getaway.
That means roadways will be packed with loaded SUV's and expectant kids ready to hit the water. If you're one of the lucky ones to be here during the height of tourist season, you'll want to make sure you have everything you need.
But in all the excitement of planning, you may want to put these on your list: aloe vera, antihistamine, corastone, baking soda and bug spray. There are three reasons why... jellyfish, sun burns and yellow flies. These three reasons can put a quick stop to all the fun. And why let that happen when you can be prepared.
Jellyfish Stings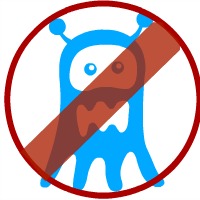 Your kids may never want to get back in the water after the first time they have encountered a jellyfish sting. These seemingly transparent blobs sneak up on the least suspecting victim. The fine hair-like stingers embedded themselves into the skin and release a toxin that can cause intense burning and leave welts. What do you do? Removing the stingers are your first priority. Wash the area with seawater or using a nearby beach shower. Next using the edge of a credit card, gently scrape the area to remove the stingers. Don't have a credit card? Grab a handful of sand and rub downward making sure your hand does not contact the infected area. Vinegar will neutralise the toxins as will a baking soda paste. Carrying a small travel tube of toothpaste to the beach could be helpful in this event. An antihistamine, such as Benadryl, taken orally will help lessen the itching or any type of allergic reactions. Corastone will help the itch topically. Taking a warm bath with baking soda is sure to relieve itching and possible swelling. If at any point a severe allergic reaction begins, a trip to Urgent Care is a must.
Sun Burns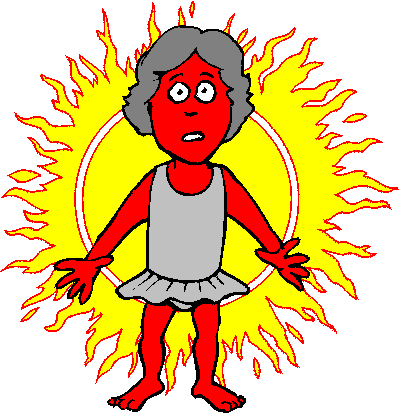 A few hours out in the sun and skin that hasn't seen the light of day since last summer will burn. Starting out with a higher SPF is a good idea. Even on cloudy days, sunburns can happen quickly. You'll know if you forgot the sun block or missed an area. Pay attention to your level of discomfort and on the first sign of burning, reapply sunblock or get under a shade. First degree burns can keep you from fully enjoying the rest of your vacation but second or third degree burns can end it. Most burns can be avoided by getting out of the sun as soon as you realize you may be burning. Wearing a light coverup and hat is a practical easy solution. Make sure you use an after sun moisturizer each time you leave the beach. Drinking water and not dehydrating will keep you from headaches and dizziness. Don't mistake drinking sodas or alcohol for hydrating. These dehydrate your body faster. If you burn, products with aloe vera and lidocaine will help ease the pain and reduce the healing time. Here's 10 Home Remedies if you need them.
Yellow Flies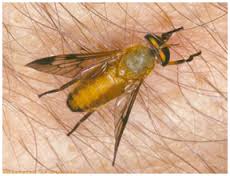 These nasty little beasts lay waiting for their unsuspecting victims in shaded tree canopies such as miniature golf courses and adventure centers that are nicely landscaped. But heaven forbid a nice cloudy day, especially after a rain, these hateful critters love those days. They usually roam together in small swarms and once they get all riled up, they strike often multiple times. A sting can be very painful and though you'll want to give it a good scratch, don't! If you do, you will spread the toxic venom further irritating your skin more. Once the venom spreads, the area becomes red and swollen. To relieved the stinging and itching, you can make a solution with 1 tsp. baking soda, ⅓ cup ammonia (windex), ⅓ tsp papain (meat tenderizer), and 1 crushed aspirin. Mix and store in a refrigerator or cooler for the beach. Shake before using and use a cotton swab to apply for best results. Amazingly, this works for most stings even jellyfish. For the recipe and other ideas to trap these pesky flies visit Walton Outdoors.
Now that we've scared the bejeebers out of you, we want to end on a good note. There's always a rainbow behind every storm. We cling to the Scout Motto, "Always be prepared." While none of these may ever happen to you, it's always good to have information just in case you need it.
If you're looking for a home along the Alabama Coast and have decided that you may not want something with dense foliage and possibly not on the beach but with several pools, (one being indoor), we've got you covered. We're no miracle workers, but we try our best to come pretty close to it. Give us a text, email or call today.

Featured property: 633 Pinehurst Dr., Gulf Shores. This is a 3 bedroom, 2 bath home in pristine Craft Farms. Only minutes from the public beaches with amenities including pool, golf & tennis with membership and lawn maintenance included with HOA dues.