As a tourist community, Gulf shores attracts thousands of visitors per year and is steadily increasing. With beach traffic becoming a problem, The City of Gulf Shores designed a plan to help the downtown area become more pedestrian friendly. One of those projects is called the Gulf Place Revitalization.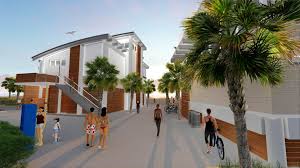 Gulf Place Revitalization is in the first phase of construction and is designed to create a more appealing public access for pedestrian safety. Beginning at the intersection of Highway 59, (Gulf Shores Parkway),West and East Beach Boulevard, the new construction with eventually connect to the Waterway Village and the Gulf State Park.
One of the more populated areas, the downtown intersection needed a facelift and a plan to help foster more foot traffic without incident.The city's plans were to incorporate a boardwalk that provided a backdrop beneficial to the beach front environment.
Hosting to major events and festivals, including the National Annual Shrimp Festival, MTV's Hangout Music Fest and the NCAA Beach Volleyball Championship, which is responsible for a large economic boost to the economy,plays a key role in tourism. This area needed modifying to accomplish this with parking, vender and walking space.
The public boardwalks, both wooden and paved, will stretch for more than half a mile. At twenty feet wide, boardwalks will accommodate groups with gear as well as wheelchairs. Planned landscaping hopes to create a tropical atmosphere with areas such as an outdoor fitness pad, pavilion, and flex green space for events. Bathrooms with showers, new lifeguard stations, an interactive fountain and orientation center are just a few of the bonuses. In addition to the wooden boardwalk leading to the public beach front, a dune walk will be constructed along the east entrance.
Gulf Place is part of the Vision 2025 plan for Gulf Shores. The Waterway Village is also part of the Vision 2025. Plans include safe pedestrian traffic lanes that connect the two.
Although the construction may be inconvenient for now, the design for a walkable downtown beachfront will offer residents and tourists the ease and safety needed to enjoy Gulf Shores without the heavy motorist concerns.
Gulf Place Revitalization plans to be completed in three phases in the next three years. This will be an added asset not only to the community but visitors alike along with the Gulf State Park Restoration.
The City of Gulf Shores is doing their best to make our area a beach destination that's the best of its kind. It is well on its way.
What's keeping you from making the move? Give us a call, text or email today and we'll be happy to show you what's available and walk you through the process of owning a piece of paradise.